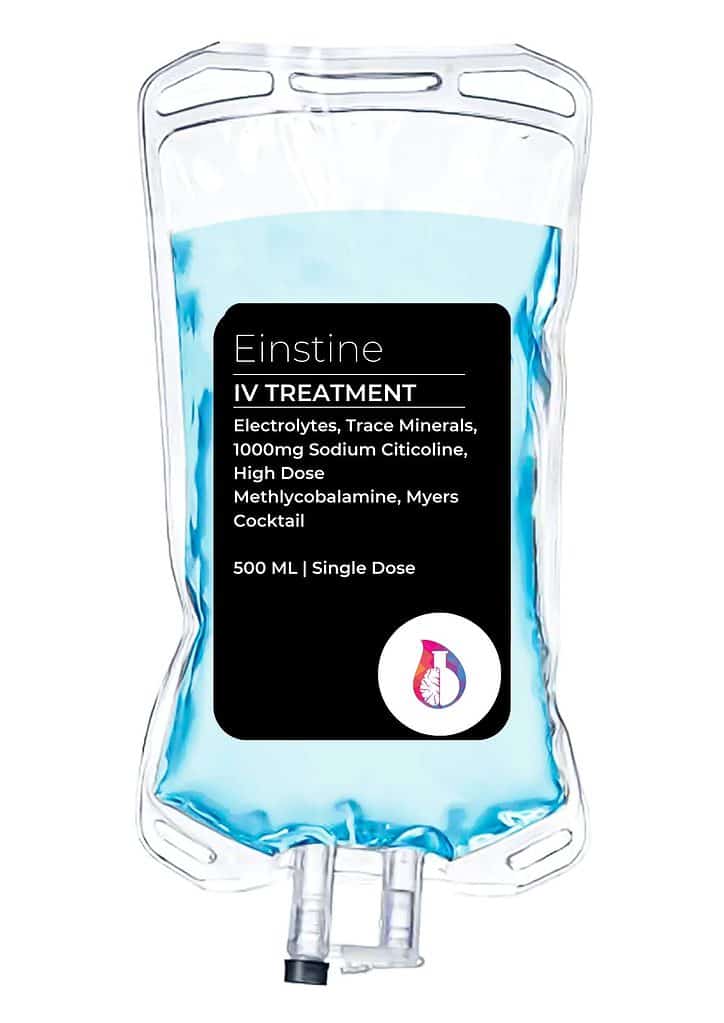 Einstein | Nootropic IV Infusion & Treatment
This exclusive DripDok nootropic IV infusion Includes powerful cognitive stimulation using a synergistic mix of Cognizin®, low-dose glutathione, vitamin C, and methylcobalamin.
Benefits include:
Kill Brain Fog
Improved Cognitive Function
Neuroprotective 
Wipe Out Jet Lag
Stimulate Synaptic Regeneration
How Does It Work?
Leverage your at-home nootropic IV infusion in the most optimal way possible. 
We offer multiple solutions including WISE, online CC acceptance, crypto, and local bank transfer.  

Small processing fees apply for non-wise payments.
We come to you.  House call fees are included in the price.
No.  However, depending on your condition the lead doctor may suggest ongoing treatments that are case specific.
Infused

nootropics

to sharpen your mind.
It won't win you a nobel prize but it sure as hell will help.
Citicoline is easily the most bioavailable and potent of the cholinergics typically used in nootropics today. 
It confers choline more readily than Alpha-GPC, for instance, while also providing more peripheral benefits associated with cytidine supplementation.
Infusion makes it 100% bioavailable.  Meaning none of it goes to waste.
Intelligence Infused
Cognizin® Citicoline is a brain-energizer linked to multiple cognition-enhancing and neuroregenerative effects in human research, including support for focus, recall, attention and overall brain health.
Additional Comprehensive At-Home IV Treatments Offered
DripDok offers multiple at-home IV treatments that are pre-formulated by our world-class doctors and PhDs. 
Affordable IV Infusions Therapies We Offer
DripDok infusions and hydration offers a variety of at-home services, please see below:
Advanced, Highly Concentrated IV Infusions & Therapies
Level Up With DripDok